Hi all,
As you know I have been producing a new CD - my version of a kids' album. And as with Lullaby, it's been so liberating and fun (and don't worry I have a "Pieces of You"-style folk album on the horizon but first things first).
I used the Beatles' "Rocky Raccoon" as a template as I wrote all but two. The other two I co-wrote with my friend Patrick Davis.
I want the album to be fun for kids and adults, whether they have kids or not. I looked at it as a chance to write songs for my baby boy, that he can dance around to when he arrives. I still see this as a record that will stand up in my anthology as I look back at my career. It's similar to Lullaby in its consistent songwriting and production, but it differs in that it has up-tempo songs. All of them are story-telling songs. I hope to design and create children's books out of several of the songs. I love some of the stories that are told. They are begging to be picture books!
Some songs are geared more for kids, and some for parents. One of my favorite things about these indie records is there are no rules! No singles are needed and I can do any style I feel like. I write in whatever style helps tell the story best. There are bossonovas, roots country, folk songs, Dixieland and classic American Standards style. I get to be myself as a versatile writer and just do whatever the heck I want! Making up stories is really fun!
We worked at a record pace on this CD. I wanted it finished before I got too big to be very productive, so I wanted it mixed and mastered by April. The only problem was that as of the beginning of February I did not even have one song written!
Patrick and I wrote 15 songs in 5 days! Album done!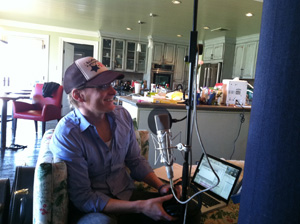 Patrick Davis
We recorded at my home studio - 19 basic tracks including vocals, and 10 piano overdubs in 7 days! A record setting pace I think!
Patrick recommended a friend of his to play guitar and piano, Less Hall. He's a young rocker from the rock band Crossfade. I was very impressed with his focus and versatility. He played blues, honkytonk, jazz, country and folk all really well! Engineering and mixing we have another rocker - Mark Dearnley, who worked on AC/DC records back in the day and many rock albums like Motorhead, Def Leppard and Ozzy Osbourne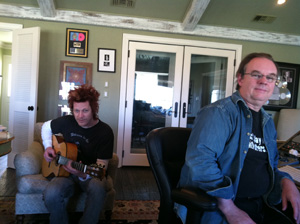 Les Hall from the band Crossfade and Mark Dearnley
I swear I'm ruining their rock credentials with this album - ha!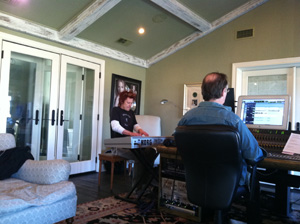 Mark records Less for some piano overdubs in my home studio.
Additionally, I have a few songs on this album I did not write. "My Favorite Things" is a favorite of mine from "The Sound Of Music" and some classic old songs like "Oh Suzanna" and the folk song "The Green Grass Grows All Around."
One song on the album you all will recognize, "The Cold Song" and there is a new one I wrote called "Sara Swan." I have to say it is my favorite on the album right now.
I am hoping to get all the songs on the album, but that has yet to be determined. For now I will give you a list of everything I have recorded. If some don't make the cut, I will post a list of those making the CD later.
I will also post the lyrics of all the songs daily or weekly - whatever makes sense.
A complete list of songs:
1 Play Day
2 Only Shadows
3 The Supermarket Song
4 Sara Swan
5 Count On Me
6 The Snooze Button Blues
7 Sammy the Spider
8 Just Like Penguins Do
9 Bucky the Bull
10 What's What I'd Do
11 In My Room
12 Oh Suzanna
13 My Favorite Things
14 Green Grass Grows All Around
15 Friday
16 You'll Be Alright
17 The Cold Song
18 Give Me the Rainbow
19 Happy
The first lyric I'd like to share is from "Just Like Penguins Do." Leave comments and I will continue to share with you the process of my production either here or on Twitter. Next up, I email the tracks to my string player and percussionist in Nashville!
xxj
Just Like Penguins Do

Imagine now if you will
A ship in sail to the arctic seas
Dawn is rising the breeze so still
The ocean frozen underneath
Icebergs like diamonds floating by
Reflecting like gem stones in your eyes
We are in the land of the midnight sun
Explorers you and I

Chorus
So take my hand
Turn your head to the sky
Northern lights shine on what's true
That you will always love me
And I you
Just like penguins do

How strangely silent is The North
A blanket of snow quiets everything
There's no scent upon the wind
As ice encases even dreams
But if you still your heart beat
You'll hear ptarmigan and polar bear sing
Travelers here in the last frontier
Seeing what few have ever seen

Chorus
So take my hand
Turn your head to the sky
Northern lights shine on what's true
That you will always love me
And I you
Just like penguins do


Bridge
Back upon our boat so gently rocking
Like a cloak darkness slowly falling
The sky let's out a sigh
As stars go floating by

Extended Chorus
So take my hand
Turn your head to the sky
Northern lights shine on what's true
That you will always love me
And I you
Just like penguins do
That you will always love me
And I you
Just like penguins do