Club EDA & FREE Downloads!
Hi All,
We've been looking forward to this for some time and today we begin rolling out Jewel's new Club EDA. For those who are wondering what EDA stands for, it is "Every Day Angels," otherwise known as Jewel's online fans. It goes a bit deeper than that as her career and the rise of the Internet happened simultaneously. If you'd enjoy learning more about the impressive history of The EDAs, you can read Jewel's blog about it and an early history of this unique community in our forum thread located here.
OK, more about Club EDA. First, if you are already registered here on jeweljk.com then you are already a member and need do nothing. If you haven't yet registered, or have yet to re-register since the site relaunch several weeks ago, we encourage you to do so now. Its free and just takes a minute. Simply fill out and submit the registration form located here. That easy and then you can log in to the Club EDA Community areas of the site.
Starting today, and again on the first of every month, Club EDA members will have access to an exclusive free download. In the case of download songs, like today, a second free download of Jewel's handwritten lyrics are also provided.
Member exclusives and special merchandise offers will also become available as things progress, and as promised, Jewel will be performing a free private concert for several hundred Club EDA members early next year. We're getting close to finalizing the location and date for this very special event. Details and RSVP instructions will be announced to members soon. Stay tuned!
OK, on to our first free download, now available to all registered members. What better place to start than at the Inner Change, the San Diego coffee shop where Jewel first developed a following. She played there many times, but its not difficult to pin down her most exciting engagement there, which occurred on July 28th and 29th, 1994. Over the course of those two nights, Jewel performed three shows to a packed house. Atlantic Records had a mobile recording unit on hand and the live tracks on her debut album, "Pieces Of You," were recorded at these particular shows.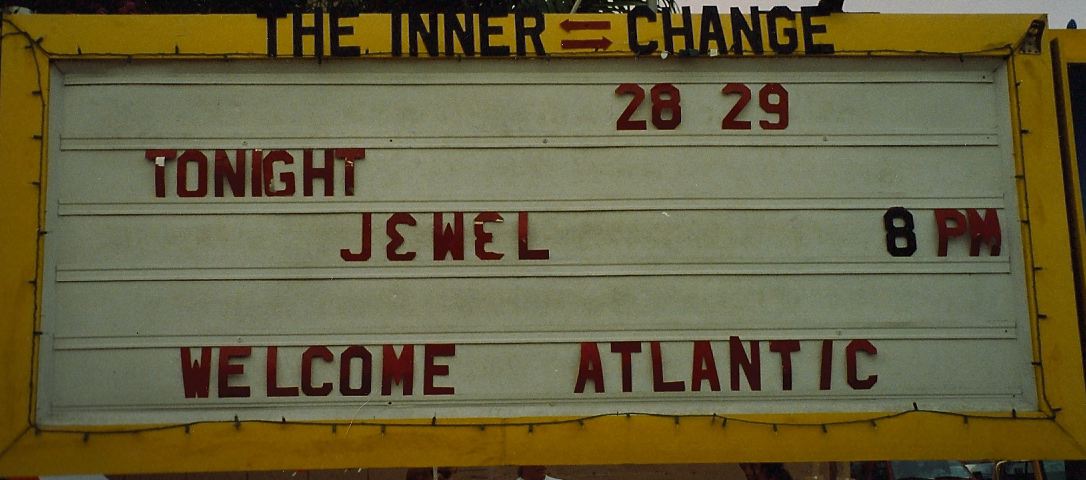 Presented today is a live performance of "Don't," recorded at the early show of July 29th, 1994. I thought you would enjoy hearing this, not only for it being an unheard outtake from the live sessions for her debut album, but because it conveys a number of interesting things, not least of which is just how far Jewel has developed as a singer, songwriter and musician. Despite it being a long time ago and one of the first songs Jewel ever wrote, it contains qualities that would continue to draw listeners in, such as the expressiveness of her voice and an unconventional song structure.
"Don't" is sandwiched between two relevant interview clips recorded earlier that same year. In Jewel's dialogue preceding the song, she explains how the song developed. In the clip following, she conveys her emerging confidence and her sense of humor. In addition to the free audio file download, you can also help yourself to a download of Jewel's hand-written lyrics. (If you are already a registered member of jeweljk.com, simply log in and help yourself to the files here. If you are not yet registered, please register first here.)
We hope you find this first free Club EDA download enjoyable, amusing and an interesting glimpse back at the very early days of Jewel's career. This version of "Don't" was recorded when she had just turned 20 and the interview clips when she was still 19 years old.

Enjoy! Alan
PS: If you experience any technical difficulty, don't hesitate to ask for help at [email protected]