APRIL 2018 EDA INCLUSIVE! Cirque du Soleil, Part 2: by Alan Bershaw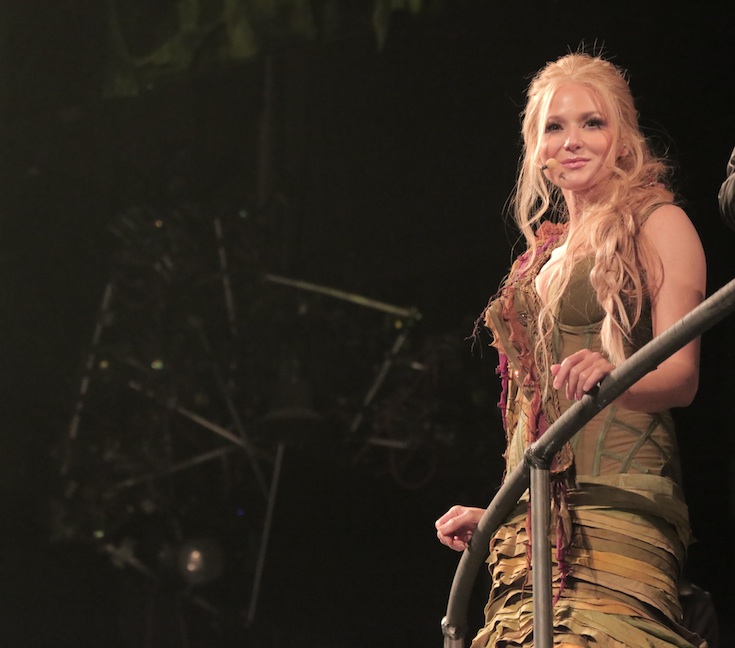 Hi All,
Here to continue our coverage of Jewel's recent One Night For One Drop Cirque du Soleil event on March 2, 2018. I'll be sharing some choice video footage from both the rehearsals and the performance with you, as well as a few recollections from EDAs who attended. But first a little background info about this unique event.
Jewel has been a fan of Cirque du Soleil since 2010, when she experienced their "Love" production (based on music by The Beatles) at The Mirage in Las Vegas. She has also been an avid supporter of One Drop, which brings sustainable access to safe water to impoverished communities around the world - a cause Jewel has been actively involved in since 1997 with her own Project Clean Water. When the opportunity presented itself to collaborate with Cirque and to do it for such a great cause, Jewel said yes.
This Cirque event required more preparation than any live performance Jewel has ever been involved in before, not least of which was creating a story line. Working within limited time parameters is challenging enough, but creating an allegory of Jewel's complex life in 90 minutes is essentially what they set out to do.

The process began in earnest last year, when Jewel began working with the writers and directors, Nicky and Laetitia Dewhurst. They began by selecting the music and deciding what story those songs could tell, and how to convey the emotions Jewel experienced on her life journey. Jewel wanted the emphasis to be on universal experiences that apply to everyone's life journey, like love, loss, betrayal, forgiveness and ultimately healing - which not coincidentally parallels the content of her book Never Broken. The production, based on events from Jewel's complex history, was simplified to its essence and made into a tale of abandonment, betrayal, the search for love, but ultimately the courage to forgive.

Jewel has pursued ambitious projects before and is not unfamiliar with big production values, but the Cirque project took complexity to an entirely different level. The music component alone was exponentially more complicated than anything Jewel has attempted before - featuring both live and prerecorded elements simultaneously. The prerecorded elements vacillated between unique remixes of Jewel's songs, separated by full blown orchestral passages and musical interludes composed by Jean-Francois Blais - which served to move the narrative along. Several of these were quite elaborate, such as "Surreal Alaska," which served as a sort of overture to the entire work. And keep in mind all of it had to be perfectly synchronized with the visual action of the Cirque dancers, acrobats, athletes and aerialists!
First off, we'd like to share with you a clip strategically shot by videographer Kistofer Yee during the rehearsals. This is a wonderful example of two of the Cirque aerialists in action, interpreting Jewel's song "Standing Still" as they fly above the stage. Recalling this sequence at the actual performance, EDA Valerie Greenfield had this to say:
"The most compelling aspect of One Night for One Drop was the ability of the Cirque performers, scenic design, staging, and colors to all combine and complement Jewel's message and music. The fusion of all these components made "Standing Still" my favorite performance of the evening. Nukka stands underneath the tree with an expression of wonder and awe as she overlooks two bluebirds." They intertwine and tangle as Jewel performs the song. As the chorus begins, they take flight over the audience, holding onto only each other and a strap from the ceiling. It took my breath away and moved me in a way that resembles falling in love, which coordinated perfectly with the song. On one hand you have your stability and attachment to the ground - what the strap represented. On the other hand, you have your partner and the person you learn to trust. "Do you love me like I love you?" It requires the courage to take that leap. The talent and collaboration on the stage that evening was nothing less than phenomenal. For the first time I experienced Jewel's music in a dimension beyond the purity of her voice. Cirque evoked the themes of her work through incredible body expression and dance. It was thoughtful, honest, and moving - something that will stay with me as a fan."
Additionally sharing her thoughts, EDA Terri Sabol conveys:
"While "Standing Still" always meant something else to me from Jewel's previous explanation of fame causing your emotional life to stand still, it took on a new meaning with Cirque's interpretation. Especially after the Web of Deceit and Betrayal acts. I loved how Jewel (the guide) is standing at the tree protecting and guiding Nukka (portraying Jewel) as the aerialists are performing center stage. It was really well choreographed and timed with the music, especially the line 'with the scenery flying by' as the aerialists flew by Jewel and Nukka. I've always been fascinated by aerialists. They make something so difficult look effortless as they bravely fly through the air - and often over the audience - all while changing positions seamlessly. Whether they're floating through the air in slow motion, through water, or performing a series of poses 20 feet above the stage without safety equipment, they take the audience along on their beautiful journey. What an incredible show combining two of my favorite things - Cirque and Jewel."
Have a look:
We would also like to share another video with you featuring additional footage from the rehearsal, as well as some remarkable footage from the Cirque performance. But before that, I'd also like to share UK EDA Michelle Frederick's thoughts on the show. Among EDAs, Michelle may have traveled furthest:
"When Jewel announced the One Night For One Drop Cirque du Soleil show I knew this was going to be a show not to be missed. I booked my flights from London to Las Vegas straight away. The show exceeded all my expectations and more! Jewel was a guide during the performance and she sang beautifully all the way through. The show was a truly magical experience. We felt every emotion through this show. "Mercy" was so beautiful my friend Michele and I cried all the way though it, but when Jewel sang "Intuition" at end of the show, we were on our feet dancing! This show pulled every heart string! I got to meet most of Jewel's family and all my EDA friends. It was a wonderful experience. You didn't have to be a lifelong Jewel fan to enjoy this spectacular show. Thank you Jewel!"

Alright, on to the main course. This remaining footage contains the entire "Intuition" grand finale' from the Cirque performance, panned back to give you a full view of the stage and all the action! This is sandwiched between a cute clip of Jewel and her son Kase during the rehearsal and some post-performance footage, where you may see a few other familiar faces. If you missed it, also be sure to check out last months EDA Inclusive, featuring a wonderful slide show of West Kennerly's photography from this event.

Until next time,
Alan Bershaw